Before I made Crop Circles I made this quilt...
it's Vintage Tulips by Thimble Blossoms.
It was a MUST do when I first saw it
and I ordered the PDF as soon as the pattern
was available. It is so sweet... so of course
I had to use my Pam Kitty Morning stash
and now that it's made...
I have seen variations
that I love just as much as the original.
I saw one quilt using only
the alternate blocks.
Thelma's
Vintage Tulips too. I am half way
tempted to spend the entire summer
making this quilt over and over again!
There is even the mini one...
oh, the light bulb just went off!
I can do mini's of the other variations!!!
The
possibilities
are
just
so
fun!
I brought this quilt out of hiding the other day.
It had been a pattern in a magazine.
I believe it's called Dresden Doilies.
Designed by Gerri Robinson
You can see that the skill level was for a confident beginner.
(Insert your own joke here.)
I left off with 7 small ones made. All of the large Dresden's made
and none of the medium size made.
Fortunately, I found (after spending some time looking) my V and Company
fabrics... so I am back in business!
This will be one of my summer projects.
The other summer project I have in mind is this one:
I have been obsessed with Orange Peel quilts since
Playful Petals was published!
So now I plan on starting with this quilt but also
spending my summer making other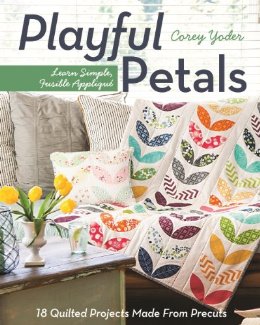 Miss Luella showed her version of the cover quilt recently on
Instagram using Jen Kingwell fabrics.
That really sent me over the edge on my obsession!
So, you will be seeing my version of this one also...
I have my summer fun all planned now!
How about you?