Hurrah, hurray!
Today is the Summer Star Minis And More Parade!
I am so excited to participate this moth...
of the "new year"!
I loved making this sweet Summer Star pattern by
Sherri at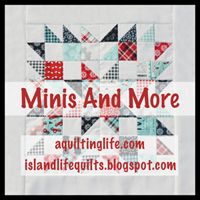 But first I want to mention how cute the
button for Minis And More is!
Michelle is going to be a perfect partner for Sherri,,,
she has been in AYOS for years and has always
impressed me and inspired me with her quilts!
I couldn't be more excited to see her team up
with Sherri for this... because, you know...
the
parade
must
go
on!!!
So here is my first entry into
Minis And More.
I don't use batik fabrics very often,
although I think they are gorgeous!
Since it's the first of July, I thought it would be
fun to have a tropical influence of the batik
fabrics.
I thought about red white and blue also...
but I have made two already this year in that colorway
and one that is blue and cream batiks.
I haven't shown them yet... because they are
a secret magazine assignment.
Hopefully I will be able to soon.
I was playing around with my photo editor
and inverted the colors on the mini quilt...
It was kind of fun to see it in another view!